Greenhouse Construction: Planning for Snow Loads and Wind Loads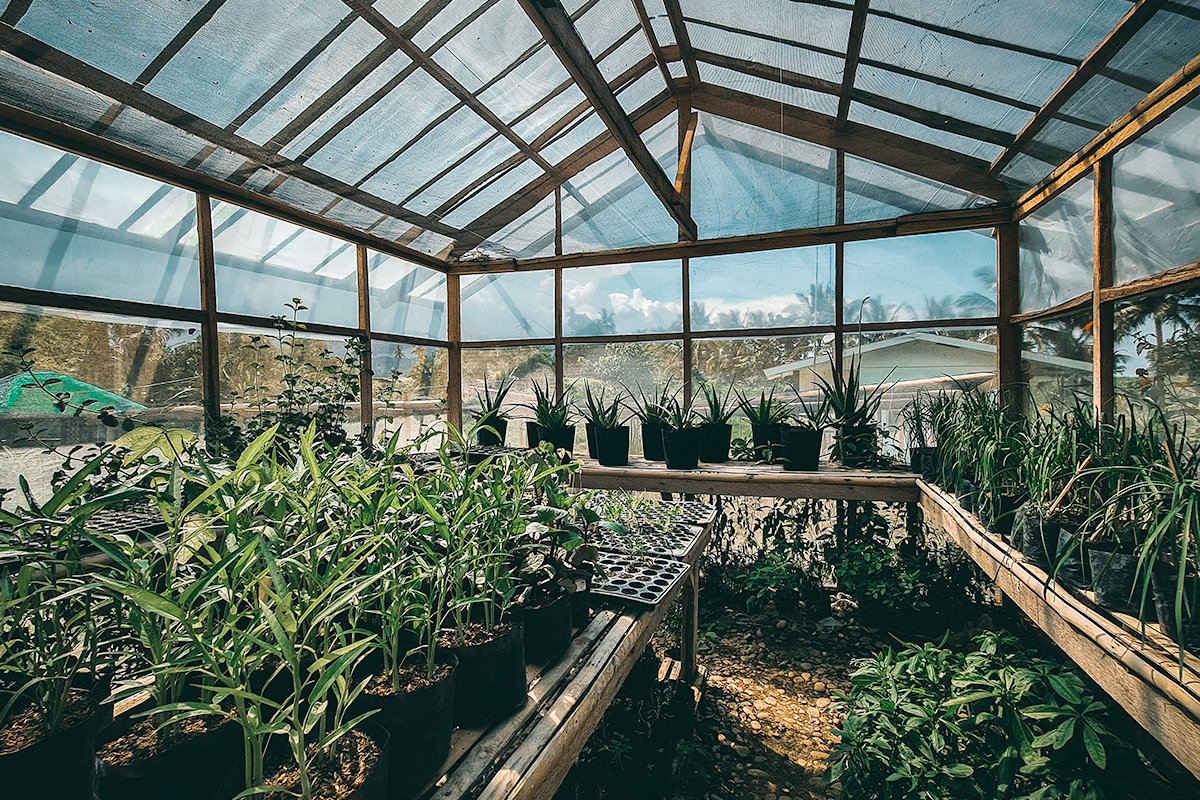 With all the decisions to be made when contemplating purchasing or building a greenhouse, it may be easy to overlook snow and wind. However, a grower needs to seriously consider how a greenhouse will handle snow and wind loads. As you can imagine, heavy snow fall or intense wind gusts can cause serious damage to a greenhouse structure. Unfortunately, not all greenhouse manufacturers are straightforward with snow and wind load ratings or requirements. It can also get confusing because many of the smaller greenhouses are not required to meet the same codes as more permanent greenhouse structures. One thing is certain, potential greenhouse owners need to take it upon themselves to understand their geographical location's building code requirements and which greenhouse designs will meet those requirements.
The very first thing a grower should do before constructing or purchasing a greenhouse is to check with the local building department (where building codes are issued) and see what the snow and wind load requirements are for his or her geographical location. Regardless of the type of greenhouse you plan to have (stand alone or attached) it is very important to check and see what the building code requirements will be. With this information you can go back to the greenhouse supplier or builder to see which greenhouse design will meet those requirements.
Small hobby greenhouses with a stamped aluminum construction generally will not require building permits but will rarely meet the requirements for snow or wind loads. Most of these greenhouses are not designed to last a lifetime and will quickly degrade. Growers who are looking for a more permanent structure should look for greenhouses that utilize extruded aluminum framing instead of stamped aluminum framing.
Higher quality greenhouses with extruded aluminum framing will most likely meet local building code requirements. These greenhouses are designed to be a more permanent structure. Generally speaking, greenhouses need to withstand 30 pounds of snow per square foot (an equivalent of about four feet of snow) and wind gusts up to 105 MPH to meet most of the code requirements throughout the United States. Greenhouses built with quality extruded frames will not only be able to meet the wind and snow load requirements but will also be considered a truly permanent structure that is designed to last a lifetime.
In locations where snow loads or wind loads exceed the norm, additional bracing or advanced technological designs can be used to create additional strength. Some of the older greenhouses use heavy cross ties to meet higher snow load requirements. Many of the newer greenhouses are utilizing sophisticated engineering designs, like the scissor truss. The scissor truss design not only adds strength but also, because it eliminates the need for cross ties, allows for additional head room in the greenhouse.
If you are in the market for a greenhouse that will handle heavy snow and wind loads and last a lifetime, you should seriously consider a greenhouse with extruded aluminum framing. Small hobby greenhouses are suitable for some applications but should not be considered a permanent structure and certainly shouldn't be expected to withstand heavy snow loads or strong gusts of wind. A quick trip to your local building department will give you all the information you'll need for snow and wind load requirements. With that information you can discuss all of your options with your greenhouse supplier.
Background information provided by Arcadiaglasshouse.com.
Photo Description: The innovative "Scissor Truss" design provides extra strength and higher headroom for larger spans in greenhouses that meet local building codes for snow load and wind loads specifications.
Greenhouse Space-Saving Techniques
With a little garden space planning, it is possible to drastically increase the productivity and enjoyment of a greenhouse garden. Like with any great structure, one can start from the foundation and work up to the top to make sure each area complements the others and is an efficient use of the space.
Going Underground
If a greenhouse is on a deck or already has permanent flooring, it may not be possible to take advantage of some great underground space. If at all possible, there are many advantages to having a "flexible" greenhouse floor. To start with, some area of floor that is not covered can allow for cultivation of the soil or the addition of a perfectly blended soil mix to grow plants at the ground level. This will result in an automatic space saving because the roots of the plants are occupying space below the greenhouse floor level that otherwise would be wasted. All that is generally necessary for walking and working in the greenhouse is to leave a three to four foot corridor down the middle and the rest of the floor area can be planted. But even this center corridor can be a door to an underground gardening powerhouse.
The Underground Greenhouse Engine
One of the best ways to turn a greenhouse into a full scale growing machine is to convert the center corridor into an underground composting and/or vermiculture center, and it is quite easy to do. Simply dig a trench three to four feet wide and two to three feet deep in the center of the greenhouse from end to end. Stack a brick barrier on the sides and ends and cover with strong plywood sections. The plywood makes a nice greenhouse floor for walking through and tending plants. Sections of the plywood can be lifted to reveal the perfect cool damp environment for composting and/or vermiculture and a dry box section can be included for garden supply storage.
Hydroponics and the Underground
Any discussion of greenhouse space saving techniques would be incomplete without some mention of hydroponics. Hydroponics presents a level of control and efficiency that is geared toward productivity and getting the most out of available space. Underground is the perfect place to put nutrient reservoirs. Many hydroponics systems require the reservoir to be below the plant growing medium and below ground reservoirs allow the plant grow beds to be as low as ground level. They do not take up space in the greenhouse and keep the nutrient solution cooler in summer and warmer in winter.
Using Floor Space Wisely
With a few cautions in mind, the stacking plant growing space with tiered benches or shelves can add greatly to productivity. It is important to consider how the shelves and plants themselves will shade other plants from light. Just as tall plants are generally positioned in the back of the garden so they will not shade shorter plants, it is important to observe the path of the sun in relationship to the greenhouse placement and plant accordingly. Place tall shelving and plants where they will not block too much light from other areas of the greenhouse. Shelves and racks are best made of mesh or screen construction which allows light, air and moisture to pass more easily. Always try to buy adjustable shelving. It is much more versatile and allows for spacing shelves based on the requirements of each crop. Specially designed triangular shelves are also available for the corners of the greenhouse to take advantage of what is often dead space. One last note on shelving, and just about anything else that is placed in the greenhouse, light colors are best because they reflect light allowing more of it to be absorbed by the plants.
Using Lights to Increase Productivity
As mentioned above, it is best to position benches, shelving and plants to take the best advantage of the natural light that is available to the greenhouse. That said it is possible to lengthen the growing season, volume of plants that can be grown and productivity with the use of artificial lights. T5 Fluorescent lights have several advantages for greenhouse space saving. They do not require large bulky external ballasts, and are very low profile and can be attached to the bottom of a shelf to provide light to the plants on the next shelf down. Just be sure to have proper channeling for moisture from the plants above. Bulbs are available in warm, cool and full spectrum and they produce very little heat allowing them to be positioned quite close to growing plants. They are available in 48 inch long 2, 4, 6 and 8 tube models that are perfect for any width shelf.
Using Space Saving Hydroponics Towers
Hydroponics towers are a growing innovation that is hard to ignore when it comes to getting the most from each square foot. These systems stack growing containers in clever configurations so that plants still get light, but are vertically stacked to save ground space. Several different varieties are available to suit almost any greenhouse application.
Air Space
Last, but not least, because of their clear ceilings, greenhouses offer even more space for hanging plants. Once the floor and wall spaces have been planted, consider where hanging plants may work best without robbing too much light from other plants. As with shelves and other vertical plantings, it is important to study the path of the sun and shade in the greenhouse to determine where best to place hanging plants so the shade they provide is an asset not a determent to the greenhouse as a whole. This may be quite different depending on the season. In the summer, sun loving hanging plants may provide welcome shade when placed properly in the greenhouse. In the winter, they may need to be avoided entirely depending on the overall light requirements of the particular greenhouse application. Upside down tomato growers have also become popular for growing tomatoes and other plants hanging upside down and may make welcome space saving additions to the greenhouse.
It may perhaps be a habit from traditional outdoor gardening to look at the garden space as one dimensional and plan accordingly. A better approach is to take into consideration each level and surface from floor to sealing and how it will interact with the greenhouse as a whole. By taking a three dimensional view and planning the greenhouse garden from the floor up a better, more productive garden is within reach.