The Importance of Ventilation in a Greenhouse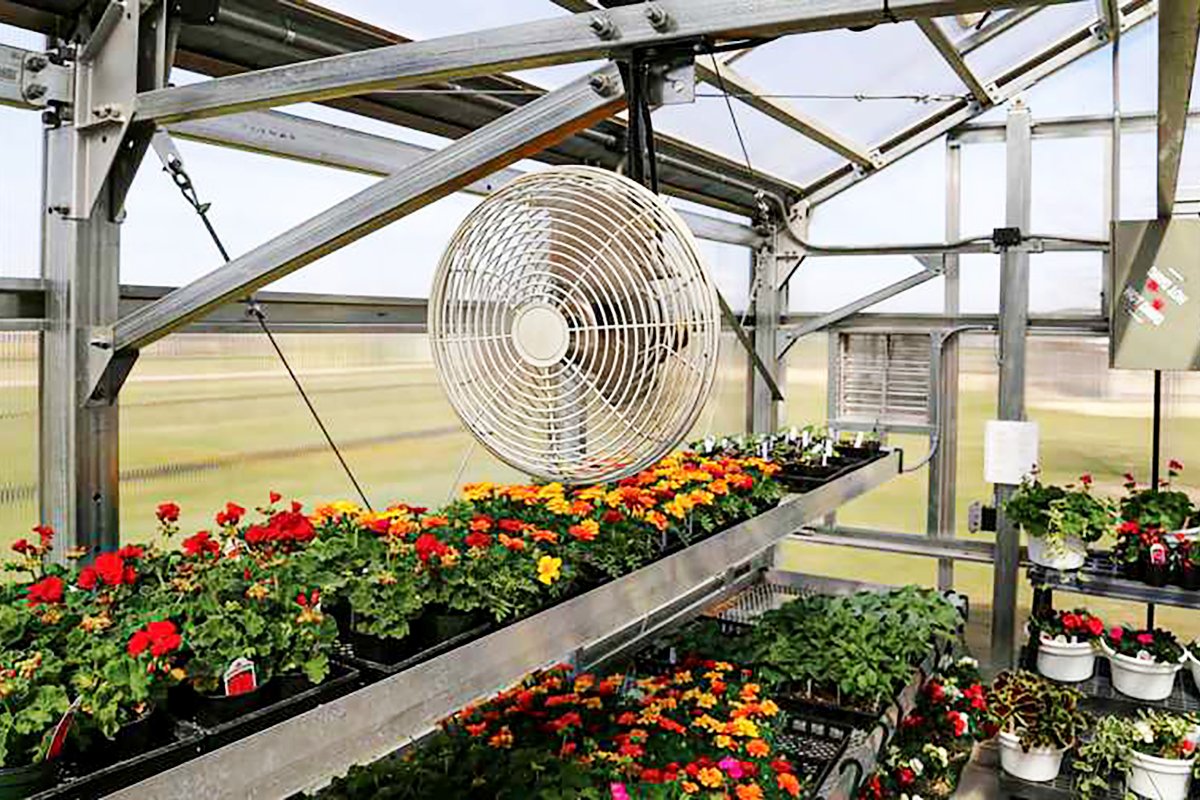 Proper ventilation is imperative for a greenhouse to function properly. The ventilation system of a greenhouse provides fresh air to the plants (CO2), helps to control temperature and humidity, and reduces the likelihood of disease. Greenhouses are generally enclosed structures that will not ventilate entirely on their own. In order to ensure that proper ventilation in the greenhouse is achieved, gardeners must install either a passive or powered ventilation system.
Passive Ventilation System
A passive ventilation system is a ventilation system without powered fans. Instead, the greenhouse is ventilated via convection (hot air becomes less dense and rises) through the ridge vents. In addition to the ridge vents, a passive ventilation system needs intake vents to allow cool air to enter the greenhouse and displace the hot air as it rises. These intake vents are generally placed on the lower portion of the side walls of a greenhouse. The largest advantage of passive ventilation systems is that they are virtually silent. This can be advantageous for a gardener whose greenhouse is attached to his or her home and the noise of a powered fan would be a disturbance. The biggest disadvantages of a passive ventilation system are cost, maintenance, and efficiency. Most people don't know that a ridge vent system will cost 3-4 times as much as a PVS (powered ventilation system). Also many people do not understand that maintenance is required with a passive ventilation system. The ridge vent needs to be kept free of debris and cleaned periodically. Also, the pistons on the vent system will need to be lubricated. Last, but not least, because air is not being forced through the greenhouse, a passive ventilation system is not as efficient as a powered ventilation system. All in all, passive ventilation systems are a great fit for greenhouses where the noise of a powered fan would be an annoyance.
Powered Ventilation System (PVS)
A powered ventilation system for a greenhouse is a ventilation system with a powered fan and intake vents. The cubic feet of the greenhouse space will be the determining factor for sizing a fan system. The minimum goal is to get the cubic volume of air turned over in less than two minutes. In many cases, a fan will be sized to turn over the air in less than one minute. A quick turnover makes it much easier to control temperature and/or humidity, keeping the greenhouse about 10 degrees cooler than a passive cooling system. The fan should be installed on the top section of the wall opposite of the intake vents and screen door. In other words, the intake vents should be installed on the same wall as the door and the fan should be installed on the top of the opposite wall. This ensures that the fresh air entering the greenhouse travels across the greenhouse before being evacuated. Powered ventilation systems are usually set up with a thermostatic control which will turn on the fan when the set-point temperature is reached. The intake vents are synced with the fan so they will open at the same time the fan is activated. In order to maintain the highest level of performance, the thermostat sensor should be placed at plant height.
In addition to the cooling/exhaust fan of a PVS, a greenhouse should also be equipped with a circulating fan. Circulating fans provide continuous air movement within the greenhouse which helps to maintain uniform temperatures and humidity while also increases the structural integrity of the plants (much like the wind strengthens plants in nature). Greenhouses with circulating fans are the most effective and efficient for maintaining desirable atmospheric conditions.
Whether you choose a passive or powered ventilation system, making sure a greenhouse is properly ventilated is crucial to creating an ideal growing environment for plants. A greenhouse's temperature, humidity, and ambient CO2 levels are all determined by the ventilation system. In other words, the ventilation system is one of the most important determining factors over the way plants will perform in a greenhouse and should be contemplated by every potential greenhouse gardener.
For more information visit ArcadiaGlasshouse.com
Greenhouse Space-Saving Techniques
With a little garden space planning, it is possible to drastically increase the productivity and enjoyment of a greenhouse garden. Like with any great structure, one can start from the foundation and work up to the top to make sure each area complements the others and is an efficient use of the space.
Going Underground
If a greenhouse is on a deck or already has permanent flooring, it may not be possible to take advantage of some great underground space. If at all possible, there are many advantages to having a "flexible" greenhouse floor. To start with, some area of floor that is not covered can allow for cultivation of the soil or the addition of a perfectly blended soil mix to grow plants at the ground level. This will result in an automatic space saving because the roots of the plants are occupying space below the greenhouse floor level that otherwise would be wasted. All that is generally necessary for walking and working in the greenhouse is to leave a three to four foot corridor down the middle and the rest of the floor area can be planted. But even this center corridor can be a door to an underground gardening powerhouse.
The Underground Greenhouse Engine
One of the best ways to turn a greenhouse into a full scale growing machine is to convert the center corridor into an underground composting and/or vermiculture center, and it is quite easy to do. Simply dig a trench three to four feet wide and two to three feet deep in the center of the greenhouse from end to end. Stack a brick barrier on the sides and ends and cover with strong plywood sections. The plywood makes a nice greenhouse floor for walking through and tending plants. Sections of the plywood can be lifted to reveal the perfect cool damp environment for composting and/or vermiculture and a dry box section can be included for garden supply storage.
Hydroponics and the Underground
Any discussion of greenhouse space saving techniques would be incomplete without some mention of hydroponics. Hydroponics presents a level of control and efficiency that is geared toward productivity and getting the most out of available space. Underground is the perfect place to put nutrient reservoirs. Many hydroponics systems require the reservoir to be below the plant growing medium and below ground reservoirs allow the plant grow beds to be as low as ground level. They do not take up space in the greenhouse and keep the nutrient solution cooler in summer and warmer in winter.
Using Floor Space Wisely
With a few cautions in mind, the stacking plant growing space with tiered benches or shelves can add greatly to productivity. It is important to consider how the shelves and plants themselves will shade other plants from light. Just as tall plants are generally positioned in the back of the garden so they will not shade shorter plants, it is important to observe the path of the sun in relationship to the greenhouse placement and plant accordingly. Place tall shelving and plants where they will not block too much light from other areas of the greenhouse. Shelves and racks are best made of mesh or screen construction which allows light, air and moisture to pass more easily. Always try to buy adjustable shelving. It is much more versatile and allows for spacing shelves based on the requirements of each crop. Specially designed triangular shelves are also available for the corners of the greenhouse to take advantage of what is often dead space. One last note on shelving, and just about anything else that is placed in the greenhouse, light colors are best because they reflect light allowing more of it to be absorbed by the plants.
Using Lights to Increase Productivity
As mentioned above, it is best to position benches, shelving and plants to take the best advantage of the natural light that is available to the greenhouse. That said it is possible to lengthen the growing season, volume of plants that can be grown and productivity with the use of artificial lights. T5 Fluorescent lights have several advantages for greenhouse space saving. They do not require large bulky external ballasts, and are very low profile and can be attached to the bottom of a shelf to provide light to the plants on the next shelf down. Just be sure to have proper channeling for moisture from the plants above. Bulbs are available in warm, cool and full spectrum and they produce very little heat allowing them to be positioned quite close to growing plants. They are available in 48 inch long 2, 4, 6 and 8 tube models that are perfect for any width shelf.
Using Space Saving Hydroponics Towers
Hydroponics towers are a growing innovation that is hard to ignore when it comes to getting the most from each square foot. These systems stack growing containers in clever configurations so that plants still get light, but are vertically stacked to save ground space. Several different varieties are available to suit almost any greenhouse application.
Air Space
Last, but not least, because of their clear ceilings, greenhouses offer even more space for hanging plants. Once the floor and wall spaces have been planted, consider where hanging plants may work best without robbing too much light from other plants. As with shelves and other vertical plantings, it is important to study the path of the sun and shade in the greenhouse to determine where best to place hanging plants so the shade they provide is an asset not a determent to the greenhouse as a whole. This may be quite different depending on the season. In the summer, sun loving hanging plants may provide welcome shade when placed properly in the greenhouse. In the winter, they may need to be avoided entirely depending on the overall light requirements of the particular greenhouse application. Upside down tomato growers have also become popular for growing tomatoes and other plants hanging upside down and may make welcome space saving additions to the greenhouse.
It may perhaps be a habit from traditional outdoor gardening to look at the garden space as one dimensional and plan accordingly. A better approach is to take into consideration each level and surface from floor to sealing and how it will interact with the greenhouse as a whole. By taking a three dimensional view and planning the greenhouse garden from the floor up a better, more productive garden is within reach.